This is my rifle. There are many like it, but this one is mine…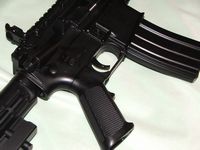 Yep-yep the review of the Electric Special Ops M4 R.I.S. Full Metal Assault Rifle FPS-400 Airsoft Gun from HobbyTron has been reviewed over at DSM.. Stop by and take a look, it's a great gun for beginners and pros alike! The thing is tons of fun, and it's really well made!
Click here to read the review:
A&K S-System Spec Ops M4 Full Metal Airsoft Rifle from HobbyTron
also I just got a bunch of great new products in from various sponsors and we've got tons of iphone accessory reviews on the way. Tom reviewed the Jam Jacket from DLO and the HipCase for iPhone from DLO already, he found both to be very good choices, but both did have drawbacks… he's still trying to find that perfect case for his precious iPhone… picky-picky hehehe
Strapya World sent me a bunch of stuff for review, lots of cool stuff that I'll be giving away as well, so watch for that soon.. they sent me many of the same item just to give away to my readers!! Lucky you huh?! One of the things, though they only sent one of, is the BAKETAN Ghost Detector or Ghost Radar.. this thing is just really cool!