What do you use to burn your CDs and DVDs? Personally I use Nero and pretty much have always used it for all or my authoring needs, whether it be creating a movie, or just burning a CD/DVD.
As I mentioned in an earlier post I got Nero 8 Ultra Edition for review over at DSM, and I've finally finished the review, despite my massive data loss.. it wasn't too bad really, I got most of the screenshots back, but I still had to go in and take some more to finish the review..
Stop on over to DSM and check out my review, I've tried to cover every aspect of this new version, it's much better than all the previous versions…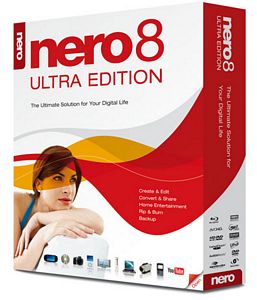 Here's a snippet from the review:
The product I have for review today really needs no introduction, pretty much everyone knows what Nero is… but today for review I've got Nero 8 Ultra Edition and it features many improvements over Nero 7 including a re-designed StartSmart interface.
I personally love Nero and have always used it as my main software for burning and creating CDs or DVDs. Some people out there complain that Nero is bloated and there's just too much stuff with it, I happen to like having all of these great programs in one suite of tools where I can essentially do most anything I need to with my CDs and DVDs. To get the functionality you get from Nero you'd have to buy and install a lot of different programs which would easily cost quite a bit more than Nero itself does. So continue on to learn more about the new Nero 8 Ultra Edition, I've got tons of information and screenshots of everything for you to browse and see what's new in Nero 8…
 Click HERE to read the review or you can click the above boxshot!